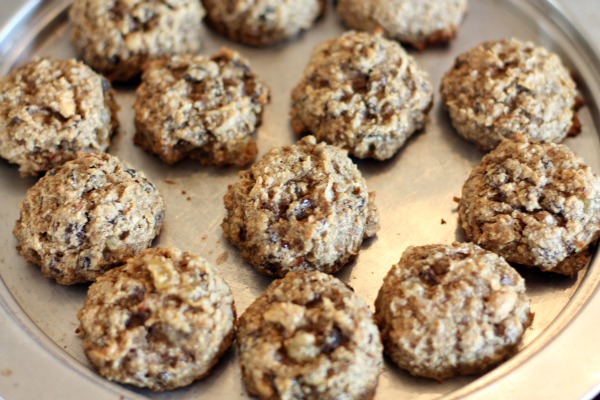 I love breakfast. And I love cookies. So I'm working on a healthy recipe for Healthy Breakfast Cookies that offers the perfect balance of high-quality protein, natural carbs, and healthy fat.

I'll post the recipe on Thursday! 

UPDATE: here's the recipe...
 
Healthy Breakfast Cookies

Ingredients:
1 cup powdered peanut butter
1/2 cup water
1/4 cup honey
1 teaspoon vanilla extract
2 ripe bananas, mashed
1 teaspoon cinnamon
2 cups quick oats
1/4 cup protein powder
1/2 cup raisins or cranberries
2/3 cup chopped walnuts (or other nuts)
Directions:
Preheat the oven to 325 degrees Fahrenheit. Line a baking sheet with parchment paper.
With an electric mixer, mix the peanut butter, water, honey, vanilla extract, mashed bananas, and cinnamon.
Add the oats, protein powder, dried cranberries and nuts and mix until combined. Scoop about 1/4-cup mounds of the cookie dough onto the baking sheet, flattening each cookie slightly. 
Bake the cookies for about 15 minutes, until they're golden brown.
Remove cookies from the oven, then allow them to cool. Enjoy!
Nutritional Info:
Serving size: 2 cookies
Calories: 140
Fat: 4 g
Protein: 8 g
Carbs: 22 g
Fiber: 4 g
Sugar: 13 g
Sodium: 55 mg
Cholesterol: 90 mg