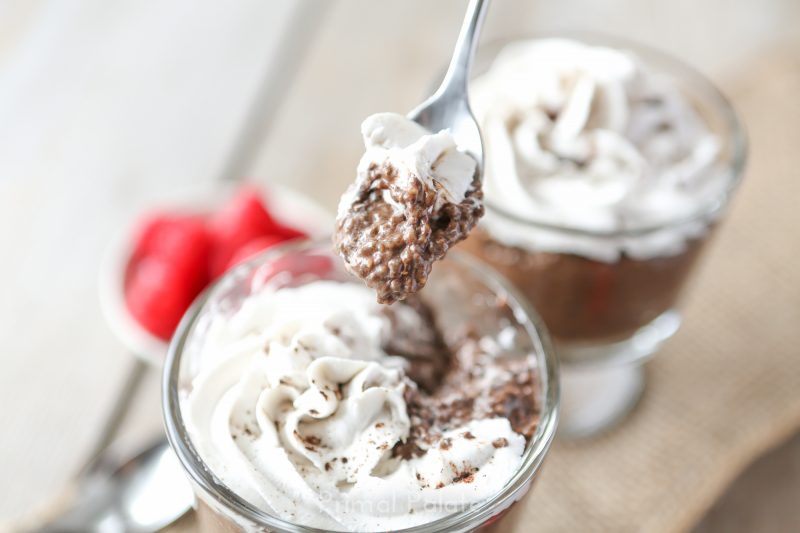 Introduction
This healthy dessert recipe is so delicious and jam-packed with healthy nutrients!
Ingredients
For the pudding:
- 1/3 cup chia seeds
- 1 cup almond milk
- 6-8 medjool dates, pitted and chopped
- 1/4 cup almond butter
- 1/4 cup rolled oats
- 2 tablespoons dark chocolate chips
- 1 teaspoon pure vanilla extract
- 1/4 teaspoon almond extract

For the topping:
- 1 can full-fat coconut milk, refrigerated overnight
- 1 tablespoon maple syrup
- 1 teaspoon pure vanilla extract
Nutrition Profile
Calories: 174
Notes
You can use cows milk or coconut milk in this recipe as well - all work well.
Directions
1. Stir chia seeds with the almond milk in a bowl and add the dates, almond butter, and oats. Cover and place in the fridge for at least 3 hours (overnight works best).

2. Scoop the mixture in a blender with the chocolate chips, 1/2 teaspoon vanilla, and 1/4 teaspoon almond extract. Add a splash of almond milk and blend until fully smooth and creamy. Add more milk as needed.

3. Refrigerate in a sealed container until chilled.

4. While chilling, open the can of coconut milk and scrape off the solid white layer (about 1/2 way into the can). Avoid scooping any of the liquid. Place in a mixing bowl and beat with 2 teaspoons maple syrup and 1/2 teaspoon vanilla extract until fluffy. Chill until ready to use and whisk before serving.

5. Serve the pudding with coconut whipped cream and enjoy!