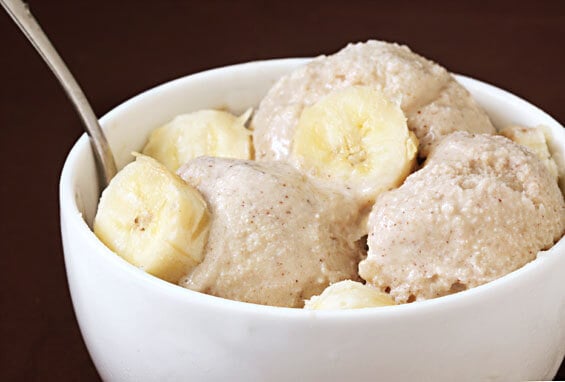 Introduction
This FitFreeze ice cream recipe is sooo good - I hope you enjoy it!
Ingredients
1/4 cup almond milk
1 tablespoon coconut oil
1 teaspoon vanilla extract
1 ripe banana
1/4 cup coconut or almond flour
1/4 teaspoon cinnamon
1/4 teaspoon nutmeg
3/4 cup water
1 1/3 cup vanilla or chocolate FitFreeze
Nutrition Profile
Calories: 174
Notes
If you bake too long it'll be tough to pour back into the blender.
Directions
1. Preheat oven to 350 degrees.

2. Mix first 7 ingredients in a blender for 1 minute and pour into a greased loaf pan.

3. Bake for 10 minutes, just until gooey and allow to cool.

4. Wash your blender, then pour water into blender with FitFreeze powder and mix for about 30 seconds.

5. Pour banana bread mixture in with FitFreeze mixture and blend on low for an additional 10 seconds.

6. Pour banana bread ice cream mixture into small containers (or popsicle molds) and freeze. Let thaw until desired ice cream texture and enjoy!