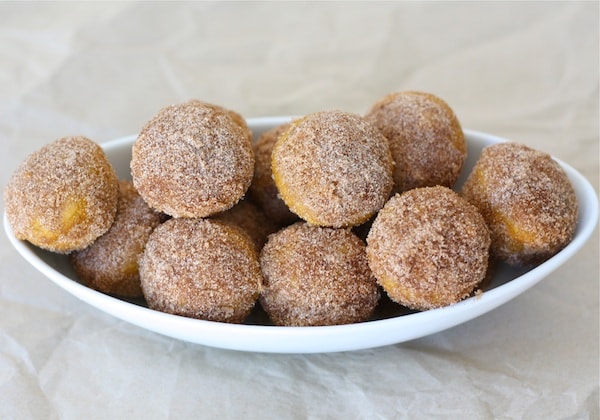 Introduction
If you enjoy doughnuts but not the consequences, you've got to try this healthy recipe below – it's awesome!
Ingredients
1/2 cup coconut flour
1/2 cup almond flour
1 scoop vanilla protein powder
1 teaspoons baking soda
4 teaspoons pumpkin pie spice
1/2 cup coconut sugar
1/2 teaspoon salt
4 large eggs
1/2 cup grass-fed butter or coconut oil, melted
1/2 cup maple syrup
1/2 cup pumpkin puree
2 teaspoons vanilla extract
2 teaspoons ground cinnamon

Nutrition Profile
Calories: 152
Notes
Be sure to enjoy these in moderation - they're addicting!
Directions
1.Preheat the oven to 350 degrees Fahrenheit. Line mini muffin tins with 30 muffin liners.

2. In a large bowl, mix together the dry ingredients (coconut flour through salt).

3. In a separate medium bowl, mix together the wet ingredients (eggs through vanilla).

4. Add the dry mixture (just 1/4 cup coconut sugar, save the rest) to the wet mixture and stir until combined.

5. Pour the batter evenly into the muffin liners, filling each liner until almost completely full.

6. Bake for about 12 minutes or until a toothpick inserted in the middle comes out clean. Turn out onto a wire rack to cool completely.

7. Mx the cinnamon with the remaining coconut sugar in a small bowl, then roll the donut holes in the cinnamon sugar.

8. Enjoy and store left-overs in an airtight container for up to 3 days.