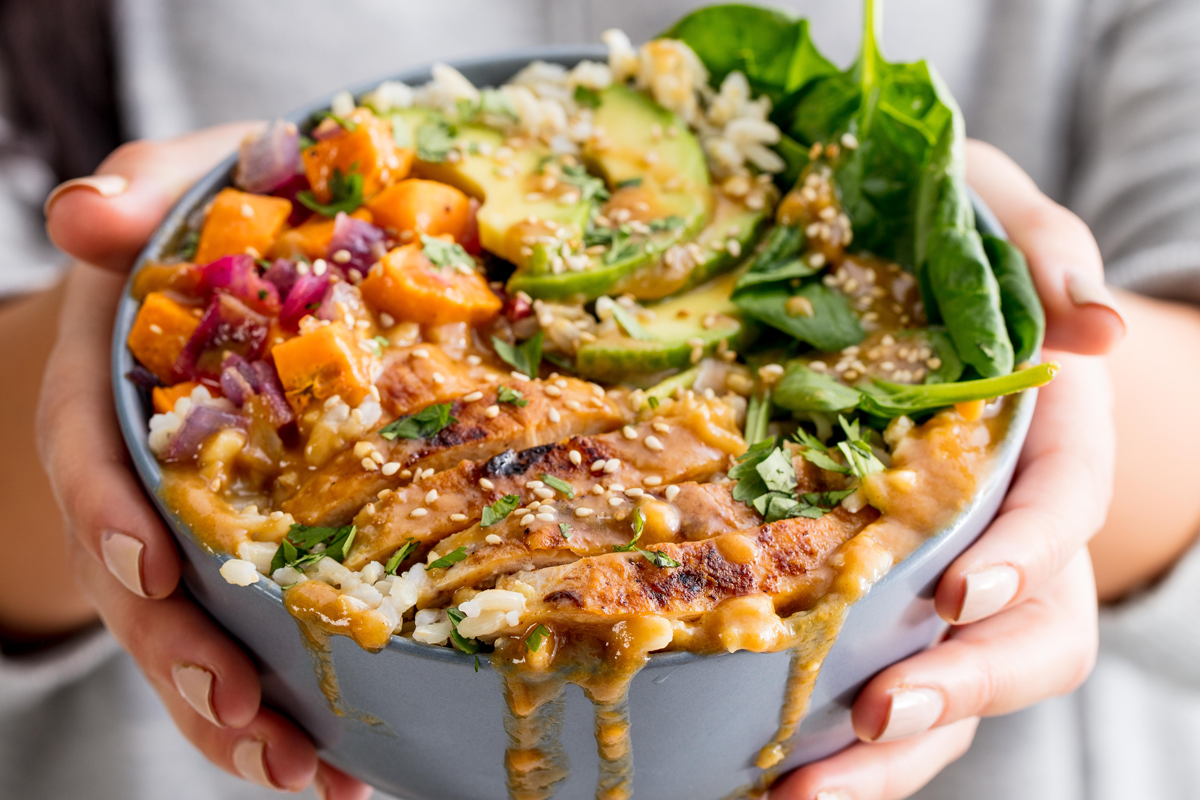 Introduction
This recipe is a complete meal, as it's the perfect balance of high-quality protein, the right kind of carbs, and healthy fat.
Ingredients
1 sweet potato, cut into 1/2-inch cubes
1 red onion, diced
3 tablespoon olive oil, divided
1 pound of boneless, skinless chicken breasts
1 teaspoon garlic powder
1 teaspoon ground ginger
1 small clove garlic, minced
2 tablespoons natural peanut butter
Juice of 1 lime
1 tablespoon low-sodium soy sauce
1 tablespoon honey
1 tablespoon sesame oil
4 cups cooked brown rice or quinoa
1 avocado, thinly sliced
2 cups spinach
2 tablespoons chopped cilantro
for garnish
1 teaspoon toasted sesame seeds
Nutrition Profile
Calories: 279
Notes
This recipe also goes really well with shrimp ... or if you're vegetarian, try it with grilled tofu.
Directions
1. Preheat oven to 425 degrees Fahrenheit. On a large baking sheet, toss sweet potatoes and onion with 1 tablespoon of oil. Bake for 20 to 25 minutes, until soft.

2. Meanwhile, in a large skillet over medium-high heat, heat 1 tablespoon of oil. Season chicken with garlic powder and ginger. Cook until no longer pink, about 8 minutes per side. Once cool, slice into thin strips.

3. In a small bowl, whisk together garlic, peanut butter, lime juice, soy sauce, and honey. Whisk in sesame oil and remaining 1 tablespoon olive oil until smooth.

4. Divide rice or quinoa among four bowls and top each with sweet potato mixture, chicken, avocado, and spinach. Sprinkle with cilantro and sesame seeds and drizzle with dressing before serving. Enjoy!